03/06/2022
Few days ago I received a new gift for my beloved Noraly: a brand new 30 liters Lone Rider Overlander bag.
I don't want to spend all day talking about specs and make a full review, there's plenty of videos and rewiews online.
I just want to give a quick personal feedback on the bag because I just used it for my longest trip (around 1500 Km from north to the center of Italy on backroads).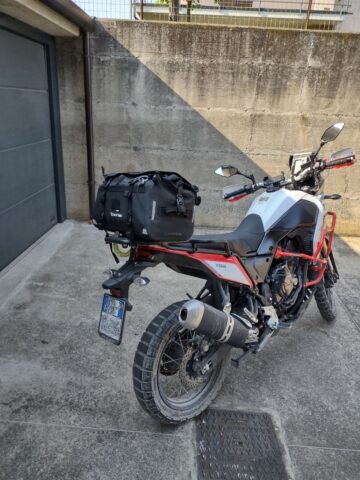 First of all the bag is sturdy, it's really tough and worked perfectly.
It's "only" 30 liters, there's a bigger one but I choose this one because it has the perfect size for small/medium trips, can easily carry a full size rain cover and also my helmet, so I can use it for daily trips using it as a backpack without bothering about my helmet.
Despite the size it can contain much more stuff than I imagined, the way the bag closes also helps a lot in case you need to carry more than the official 30 liters.
The bag is secured to the bike frame with a full set of straps that can easily adapt to any situation, and there are also extra straps to attach another bag to it, just in case you need extra space.
At first I was unsure if the straps could resist with an heavy load, so I decided to use additional plastic straps to secure it as a precaution, but at the end I realized it was not necessary.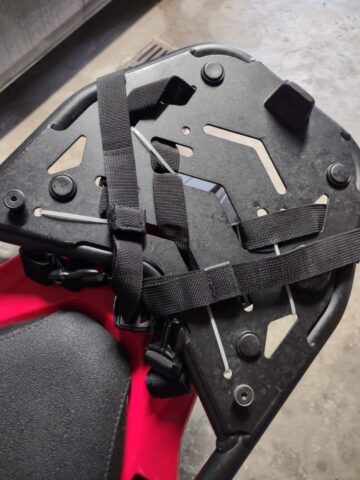 The quick attachment/release system is really really good, it's easy to use, it's quick and using four different clips it keeps the bag in its place.
Every strap also have a piece of velcro at the end to wrap the extra strap and fix it in place, a very simple and clever solution to avoid your straps to fly around like flags while riding.
During this trip I catched some rain, and the stuff inside remained completely dry all the time with no problems, just remember to close the air valve if you're planning to ride in the rain.
This air valve is another really clever solution, if closed properly the bag is completely sealed from the outside, so with this valve you can squeeze the outlander to push outh most of the air, in this way if you close the valve the bag keeps some sort of negative pressure inside to keep it smaller, even if you overload it.
The bag also has a nice aluminium insert that you can use to secure it to the bike frame, I purchased a Steelcore strap as suggested by Lone Rider; this provide a nice way to secure the bag to the bike frame and lock it in place if you need to stop in crowded places (for example if you need a brake for lunch or go to the bathroom).
In this way no only the bag is impossible to open without cut it (and believe me, the outer shell is really tough, you need a really big and sharp knife, with a pair of scissors it's almost impossible to cut) but the Steelcore wrap provides an additional way to secure the bag to the bike frame.
The only bag element that is not secured is the top cover, but it also has a quick attachment system with four plastic clips, so you can easily detach it if you need to take a brake and leave the bike alone; this top cover is not too big but it's very useful for documents or small stuff, in some sense it feels like a small tank bag, just attached to the main bag and out of the way (which is nice because I don't like tank bags too much).
On one side of this top cover you have this nice transparent bag for documents, on the other side you have a lot of molle webbings to attach additional bags or stuff to the bag, for example I used them to attach a canteen for water using a couple for velcro straps and an aluminium snap hook.
The transparent document bag is attached with velcro, so you can easily take it out, and underneath you'll find another big pouch closed with a zip; Lone Rider suggest to use this puch for a camel bag, but I decided to put inside this small stuff like sunglasses, usb chargers and cables, and emergency cellphone, the only problem is that this puch is not waterproof, so be careful and use a plastic bag to keep your items dry.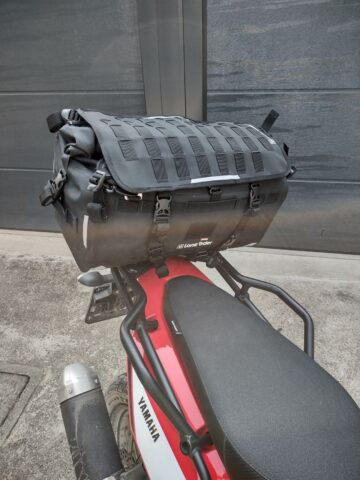 I'm a big guy, and at first I was worried that the bag could be too big and too close to my back, because while riding I often change position to get some comfort and prevent butt sore.
With the Outlander this problem simply does not exist, the bag is out of the way and stays only in the back pannier rack, there's no way you can feel it with your back or can cause any issue if you ride with a passenger.
Another thing I was worring about was the bike balance while riding; my outlander was packed with enough stuff for an entire week, it was heavy (I forgot to weight it, but I think it was around 15 Kg, maybe more), and while I was riding I felt absolutely nothing, basically I rode my bike as I was not carring a thing on it.
Honestly I'm very happy with it and maybe in the future I will also get the 48 liters version for longer trips or holidays; I'm planning to buy Mosko Moto side bags, and I think this Outlander is the perfect companion for them.
In the end I think the bag is really good, it's not cheap but its quality justify the price, the only things I can suggest to Lone Rider are:
provide an extra set of straps to secure the bag to the bike, they're ok and sturdy but anyone can steal them from the bike during the night or while the bike is parked.
the air valve is a really nice solution, but I'm worried that it can broke (it's make by plastic and is glued to the bag), in this case the bag would not be waterproof anymore.
put a single "backpack style" strap on the top cover, so in case of a break you can easily carry it (if you go to the bathroom you hook it somewhere without worring to put it on a filthy floor)
make an arrangement with Steelcore to sell a bag+strap combo, because their shipment costs are insane (I payed 50 € for the strap + 25 € for the shipment, which is insane considering the package was already in the EU).